CoEEM will establish a Strategic Panel and Technical Advisory Panel (TAP) to provide governance, leadership and strategic planning in the EM community. It is structured such that information relating to the overall strategic direction flows both ways between the TAP and the Strategic Panel and so ensuring all elements of the EM community are represented.
Liaising between the two Panels will be the Technical Director who will also chair the TAP. The role of the CoEEM Programme Director is an operational one from Cranfield University, where the Centre is administered.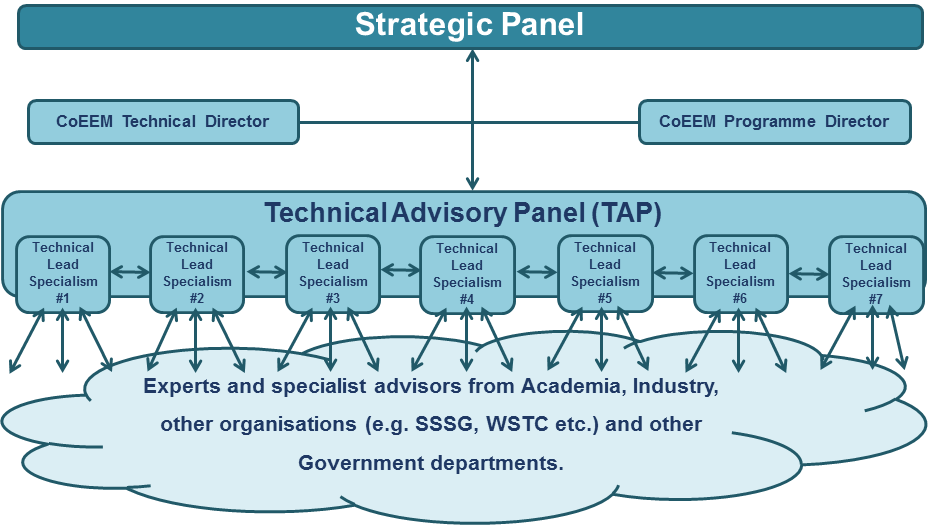 Technical Advisory Panel (TAP)
TAP will shape the overall technical programme by responding and contributing to the strategic needs as identified by Government stakeholders (in the form of the Strategic Panel) as well as by the wider EM community. Collectively, the TAP will be tasked to provide leadership, direction and advocacy to raise the profile of EM professions.
TAP will comprise of Technical Leads from the core partners plus other Government departments as deemed necessary. The Technical Leads, acting as the Government technical leader and focal point for their respective technical area of expertise within the EM domain, will be tasked to identify key areas of focus in their respective specialist area(s). They do this:
by working with fellow Technical Leads as well as stakeholders and subject matter experts from within their organisations, from industry, academia, other organisations (such as SSSG and WSTC) as well as other government bodies to develop a delivery plan for energetic materials investment that prioritises and maximises benefit across all technical areas
in their advisory role to the Strategic Panel and Government providing direction for areas of further investment and development
by horizon-scanning to identify 'topics of need', and look for matching expertise or potential solutions
by championing the energetics materials community as a whole and their technical area of expertise specifically
by presenting and networking at various conferences and becoming members of various associated committee/panels etc.
Currently the Technical Leads identified have specialisms in:
Detection
Detonics
Effects
Energetic Materials Qualification
Explosives
Forensics
Formulations
Hazard Testing
Improvised Explosives
Initiation
Insensitive munitions
Legislation and Regulation
Manufacture
Modelling
Processing
Propellants
Pyrotechnics
Rocket Motor Manufacture
Synthesis
T&E
To contact a member of the technical Panel please email: technical@coeem.org.
Top
Governance – Strategic Panel
The Strategic Panel will comprise of members from DSTL, DE&S, AWE, DST plus other Government departments as necessary (e.g. Home Office, CPNI, GO Science, DfT, HSE).
The Panel's remit is to provide:
governance in ensuring the aims of the Centre are being met
leadership, direction, funding approval, review
advocacy for the energetic materials community as a whole and championing CoEEM's vision and mission for rebuilding expertise within the EM community.
Top